About
The intent of this Success Criterion is to make users aware of important changes in content that are not given focus, and to do so in a way that doesn't unnecessarily interrupt their work.
While entering the password at the password text area in the few signup forms, there is a visual indication how strong the password is. . screen reader announces weak/weaker/strong
After the incorrect form submission, there is a message on the screen like 5 errors are found. screen reader announces as "5 errors are found"
after the successful form submission, there is message on the screen like your form has been successfully submitted, will contact you soon. screen reader announces the same.
After adding the items to shopping cart by using add to cart button of the product in the eCommerce websites, cart count gets updated visually like 0 to 1, 1 to 2, and so on. screen reader announces as "item has been added to the cart and currently cart has 2 items"
Progress indications say while downloading a file, user do not want to wait until the download completes but will continue what they are doing. However, they may choose to know the progress without interrupting what they are doing. Download started, 10%, 20%, 30% … download complete.
Feedback post form submission where the users focus is still on submit button even after submission. The "successfully submitted" or "Form submission failed" will be displayed. The same need to be informed to the screen reader user.
NOTE:
Functions that emulate a keyboard or numeric keypad key press are considered essential. This requirement applies to web content that interprets pointer actions (i.e. this does not apply to actions that are required to operate the user agent or assistive technology).
Example:
Before Rectification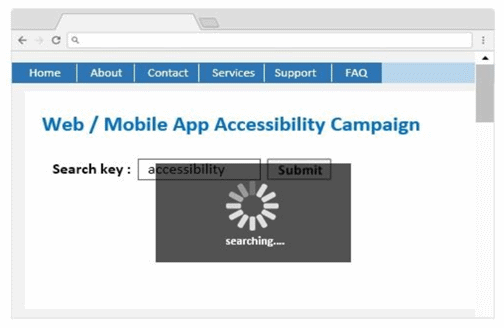 A spinning logo with "searching" status message appears after user initiates the search function. However, screen reader cannot read out the status message because it is not in focus.
After Rectification
By assigning appropriate ARIA role to the status message, the screen reader is able to read out the message to inform users about the content change even though the status message is not in focus.